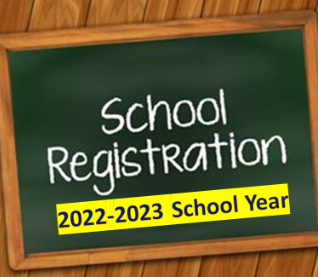 2022 - 2023 REGISTRATION
The deadline to guarantee starting school on September 1st is August 17th. This means your student's registration includes all required documents listed below and that they have been medically cleared by a school nurse. If your student requires a newly created bus stop, August 17th is also the deadline to complete your student's registration. Any new stops required after August 17th may not begin until September 12th. Students will be allowed to use existing stops, however. For example, all apartment complexes will have existing stops.
School Eligibility for Kindergarten in 2022-2023:
To be eligible for the 2022-2023 kindergarten class, your student is required to be 5 years-old on or before January 1, 2023.
PK3 and PK4 in 2022-2023: Program is Full. No more Typical Peer Model Students are being accepted.
2022-2023 Pre-K3 and PK4 students that won lottery seats and were screened and approved may register using this page beginning 2/28/2022. To register, you should've received an approval letter. Pre-K 3 and PK 4 registrations that are not approved will be deleted.
Part I - Steps to get your child pre-registered for the 2022-2023 School Year:
Step 1: Fill-out the required forms online via our PowerSchool Registration System available by clicking here.
Step 2: Once you have all the required documents listed below, you have 3 methods you may utilize to deliver the required registration documents.
1. Scan and email to kennisont@rockyhillps.com (Preferred method).
2. Fax to: (860) 258 - 7710.
3. In-person verification appointments are now available if you cannot use any of the 2 methods above. Please understand, we are trying to limit pedestrian traffic into the office.
Rules for in-person appointments:
Only one parent should attend.
Appointments are available: Monday - Thursday 9 am - 2 pm and Friday 9 am - 12:00 pm.

Location: Rocky Hill Board of Education, Town Hall, 761 Old Main Street, Suite 231, Rocky Hill, Connecticut 06071.
Part II - What will I need to send/deliver to the BOE to finish my student's registration?
Parent Questionnaire for new kindergarten students available online here. (Required for K only - Let's teachers learn about your child)
Parent/Guardian's Valid Photo Identification.
Student's Birth Certificate or Passport or Other (used to determine student's age only).
State of Connecticut Health Assessment Form and Immunization Record. For kindergarten and PK, the physical must be dated after July 1, 2021. Please be advised, out-of-state or out-of-country physical forms are not accepted.
1. Connecticut Health Assessment Form (ages 5 and up) available online here.
2. Early Childhood Health Assessment Form (ages birth-5) available online here.
Critical: Parents, please fill-out the first page, sign and date. In addition, please be sure your child's full legal name and date of birth is on each page. Nurses do require this form.
A documented Tuberculin Test by a physician may be required. Please consult your child's pediatrician. TB Form for physician sign-off available for printing at the end of your PowerSchool Registration session or by clicking here. A physician may also fill-out the TB test section on the Connecticut Health Assessment Form or provide its own documentation.

Individualized Education Plan (IEP) or 504 Plan (if applicable).

Transfer Certificate if student(s) attended a foreign school.