Music & Performing Arts
Mission/Vision:
To provide every student an opportunity to participate in music education by creating, performing, and responding including music from diverse cultures that will provide a lifelong enjoyment and appreciation of music.
K-12 Music Department Supervisor
Betty Jo Stevens
(860) 258-7771, ext 71145
RHHS-
Keith Traver: Chorus
James Shuman: Symphonic Band/Jazz Band/Marching Band

GMS-
Ann Sawamura: Band/Jazz Band/General Music
Keith Traver: Chorus/Select Chorus
Elizabeth Selig: General Music
moser-
James Shuman: Band
Betty Jo Stevens: General Music/Chorus

Stevens-
Magdalena O'Brien: General Music
West hill-
Glen Nelson: General Music
Department & Student Recognitions
Favour Amayo was selected to the 2022 Connecticut All-State Choir. The All-State Choir performed as part of the CMEA State Conference held March 31- April 2 at the Connecticut Convention Center. Favour was also selected to sing a solo in the Cantate Domino during the concert. Congratulations Favour!
Northern Region High School Music Festival
Chorus students Favour Amayo and Jasmine Edmunds and Band student Tristan Black were selected to the 2022 Northern Region High School Music Festival.
Twelve 7th and 8th grade students from Griswold Middle School were selected to the CMEA Northern Region Middle School Music Festival. The Festival was held on Saturday, March 12th at The Masters School in Simsbury. Students participating included: Band - Anushka Jani, Swapnika Kotra, Isabela Proko, Filbert Abraham Joseph Faniel Joseph. Chorus - Anvi Bose, Benjamin Massicotte, Navya Sharma, Harichandana Challa, Violet Collins, Isabella Loffredo, Aubrey Sasinouski, Swetha Sundara Raman
CAS Award
Emerson Maddock was recently honored at the 2022 Connecticut Association of Schools(CAS) Arts Award banquet. This award honors outstanding seniors who excel in the Performing and Visual Arts and exhibit scholarship and leadership within the school community. Emerson sings in the Chamber Choir and Concert Choir, was Drum Major for the 2021 Marching Band, Serves as Treasurer of the Tri-M Music Honor Society, and is an active member of the RHHS Drama Club.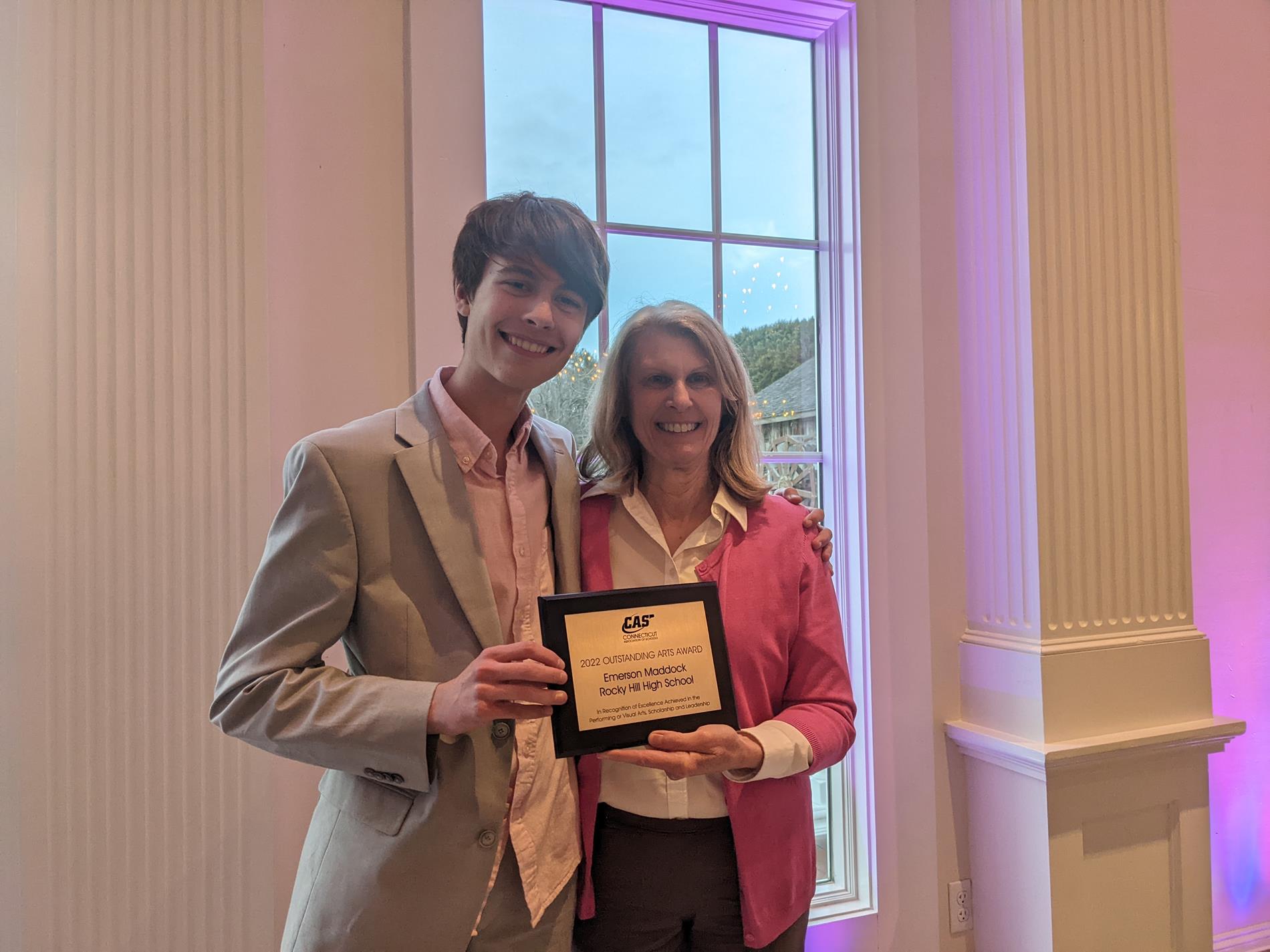 September
September 24 HS Marching Band Home Show - 6:00pm
October
October 28 PBIS Celebration at Stevens School
October 29 HS Marching Band New England Championships
November
November 11 Stevens School Veterans Day Celebration
December
December 4 The Residence at Ferry Park - HS Chamber Choir 10:30am
TBA Festival of Trees - HS Chamber Choir – Wadsworth Atheneum
December 5 Moser School 5th Grade Winter Chorus Concert - 6:30 pm
December 12 Moser School 5th Grade Winter Chorus Concert - 6:30 pm, snow date
December 13 High School Band, Chorus – 7:00 pm
December 14 High School Band, Chorus – 7:00 pm snow date
December 20 GMS all vocal and instrumental concert - Time TBD
December 21 GMS all vocal and instrumental concert - Time TBD - snow date
December 23 PBIS Celebration at Stevens School
January
January 25 GMS Band Hartford Wolfpack Performance Grades 6-8
TBA Stevens School PBIS Celebration
March
March 9 Library performance RHHS Jazz Band
TBA HS Cabaret
March 31 RHHS Drama Club Performance, Time TBD
April
April 1 RHHS Drama Club Performance, Time TBD
April 29 GMS +High School Jazz Band Pasta Dinner 5:00pm
TBA GMS Chorus Yard Goats
TBA Stevens School Music & Art Celebration and Book Fair
TBA Stevens School PBIS Celebration
May
May 5 GMS Band/Jazz Band 6:30pm
May 6 GMS Chorus/Select Chorus 6:30pm
TBA GMS Fantastic Festival – 6 Flags New England
May 15 Moser School 5th Grade Spring Chorus Concert, stage, 6:30pm
May 23 High School Band, Chorus Concert 7:00 pm
May 24 West Hill Celebration of the Arts (3rd grade chorus) 6:00pm
May 29 Memorial Day Parade – HS Marching Band - Rocky Hill
June
June 1 GMS all vocal and instrumental concert - Time TBD
TBA Stevens School PBIS Celebration